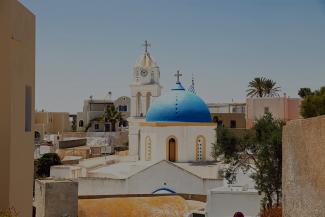 A Peaceful Village in the Heart of Santorini
 
Megalochori is the beating heart of the Grand Santorinian Vineyard, the home of acclaimed wineries with roots dating back centuries ago. Traditionally the home of local viniculture, Megalochori's architectural landmark is the "canavas", cavelike wine cellars carved in the limestone rock to create the perfect conditions for ageing the delightful local wines. Quaint whitewashed alleys, iconic belltowers and an overall sense of tranquility and calmness reign in Megalochori, a hidden gem of beauty, tradition and authenticity, tucked away from the world yet a world all on its own. 
Explore the majestic Megalochori in long strolls around its charming alleyways, brimming with bougainvillaeas and awe-inspiring corners. Discover the beauty of seclusion at a place where life seems on pause, revel in unique landscapes and enchanting experiences that can only happen here. The magnificence of Megalochori awaits you, and it's within your grasp as you stay in Ducato Wine Village.
 
GALLERY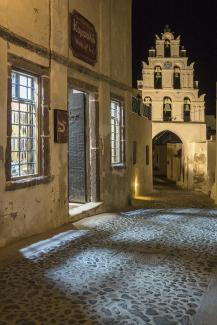 Distances
100 m from nearest shops
1 km from grocery store
2 km from the Port
3 km from nearest beach- Vlychada
5 km from Perivolos Beach
7 km from Fira
12 km from airport
20 km from Oia